How do I submit a post to the Facebook Group?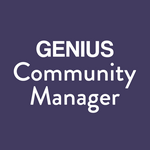 Updated by Genius Community Manager
Here's how to submit a post to the group:
To share your thoughts with the Genius Community, submit a post:
Open the Facebook group's main discussion page.
Click where it says 'Write something' and type your post into the space indicated.
If you wish, click the photo/video icon to attach a picture or video and once complete, click 'Post'.
*Please note that posts are not visible in the group instantaneously. All posts must first be approved by the Genius Community moderating team. This ensures all posts stay within group guidelines.
You can access the group guidelines here: Genius FAQ